Message from Lion David Merchant, District Governor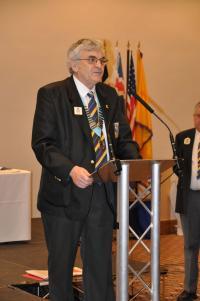 Fellow Lions,
Working as individual Clubs we make such a difference to so many people's lives. By combining our efforts, by sharing ideas and procedures we will make an even bigger difference to people's lives.
Convention is your opportunity to bring your ideas to a wider audience, listen to the suggestions, ideas and projects of others and debate our common approach to our motto of 'We Serve'.
My aim is for Convention 2014 to inspire the Lions of District 105D through:
listening to Jo Youle, who will explain the work of Missing People - Lion Diana's chosen Charity for this year - and why it is so important Lions continue to support this charity
listening to Past International President Jim Ervin who will cause you to think, to challenge your current ideas and perceptions and entertain you
attending the Workshops which are designed to challenge your current ways of promoting lionism and how we can turn the celebrations of our fast approaching centenary celebrations to the advantage of ourselves and our organisation
exchanging ideas/views/opportunities and by so doing making the most of the chance to be with other Lions and learning something new
Spend just a day with us on Saturday and take part in your AGM (Annual General Meeting) or take the opportunity to enjoy a weekend together catching up with old friends, making new ones and relaxing in excellent company at the Cabaret Showtime and the Banquet and Ball.
The booking on the website could not be easier and you have the option to book for as much or as little of the weekend as you wish - please come for at least part of Convention and experience being with other Lions all with a common purpose of serving others and helping those most in need.
I would like to take the opportunity to remind you all of my tag line for this year Service with Pride, Friendship and Enjoyment. These words sum up what we are and how we operate: a Service organisation of which we are all proud. We are proud of our achievements locally, nationally and internationally and we need to approach our welfare efforts and our social activities with friendship and enjoyment.
I look forward to meeting you in March at our District Convention.
Your District Governor,
David Merchant